Carl Gustav
Data and Specifications

Role: Carl Gustav SHRAAW(H) M2
Description: Short-Range Anti-Armour Weapon, The Carl Gustav fires an 84mm rocket-propelled shell with a muzzle velocity of 290m per second. The standard rocket has a HEAT (High Exposive Anti-Tank) warhead but a dual- purpose high explosive round (HEDP)** is available for use against bunkers.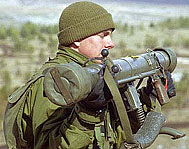 Images and Data from CASR Canadian American Strategic Review
M72
Data and Specifications

Role: M72 SHRAAW(L) 'LAW'
Role: Short-Range Anti-Armour Weapon, The US-designed 66mm M72 is a disposable, one-shot anti-armour rocket launcher. Less than 2.5kg in weight and under 1m in length, the M72 is a handy weapon for infantry use. Since its inception 30 years ago, improvements in armour have lessened the M72's effective in its original role. But the M72 is also useful against bunkers or, during street fighting, to punch through walls. The M72 rocket projectile weighs 1 kg and will penetrate 300mm of steel plate but not modern armour types.
Images and Data from CASR Canadian American Strategic Review