This website is dedicated to my friends and family, the members of the 49th (Sault Ste Marie) Field Regiment.

The 49th Field Regiment is a Reserve Artillery Regiment located in Sault Ste. Marie, Ontario. It consists of over 100 soldiers ranging in ranks from Gunner to Lieutenant Colonel. 49th Field Regiment is a unit of the Primary Reserve of the Canadian Army. It is a Regiment of Field Artillery, equipped with the 105mm C3 Howitzer capable of accurately firing a 33 pound high explosive shell to a distance of 18 KMs.

The Regiment's role is to train a battery of 100 soldiers to fire the guns in support of Army operations. Throughout its 50 year history of service as an Artillery unit, 49th Field Regiment has amassed a range of achievements and honours that are second to none in the country. Over the last thirty years, 49th Field Regiment participated in national artillery competitions known as Exercise Shellburst Valley. In thirty years of competition, the Regiment has placed in the top three a total of fifteen times. This record is unmatched by any other Artillery unit in Canada.

As well, the Regiment has provided soldiers to reinforce units of the Regular Army in United Nations Peacekeeping Operations in places like the Middle East, Cyprus and the former Yugoslavia. The Regiment also participated in Operation Assistance, the flood fighting efforts in Southern Manitoba, and was stationed in Winchester during Operation Recuperation, the Ottawa Ice Storm.

"Ubique"
Performing a Check Bearing.
Grayling, Michigan.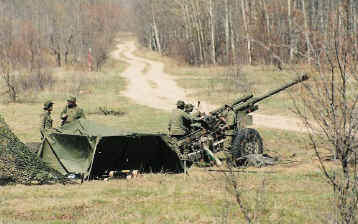 Photo by 2LT Joe Scott, Recce Officer, 49th Sault Ste Marie Field Regiment RCA (Sept 21st/02)